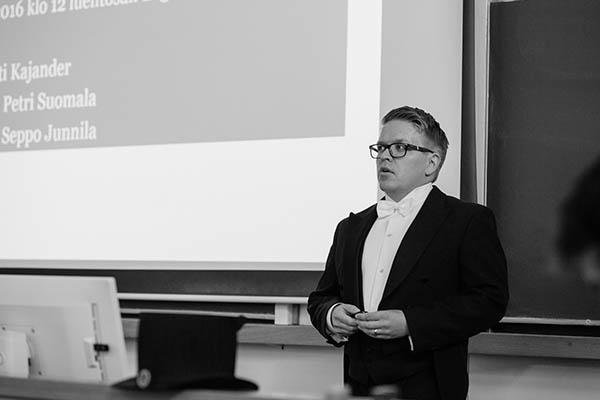 Kajander´s doctoral dissertation researched new products and services in construction
Juho-Kusti Kajander's doctoral dissertation in the field of technology was checked in Aalto University 16.9.2016. The opponent was vice-principal, professor Petri Suomala from Tampere University of Technology.
In the dissertation Kajander researched how companies in construction can explain the benefits of new products and services to their customers and stockholders. ''Area is current because companies in construction has great business opportunities in markets over 300 billion euros' products and services that aims to reduce climate change. Customers are expecting new products and services that connects with indoor air, energy production, finding local services and buildings usage and adaptability. Construction companies in the other hand, must justify the benefits of developing and deploying new products and services to their customers and financiers. Evaluation of benefits must usually be executed in short time and with given information'', tells Kajander.
In the research tools, that contractors and product part manufacturers can use to evaluate economic benefits and uncertainties of new products and services, were developed and tested. ''Tools are Even study-method and real option analysis. With Even study-method you can evaluate how development of new products and services effects on companies' market cap. Real option analysis can be used to evaluate the benefits and uncertainties for subscribers and users of new products and services such as usage and conversion flexibility and indoor air quality solutions in the design and project planning phase of a building project'', says Kajander.
According to Kajander the dissertation project was particularly rewarded by the fact that developed and tested methods are utilized in companies, construction projects and standardization organizations in the field also internationally. For example, European standardization organization of property owners SBA recently produced a recommendation on the industry and the EU Commission.