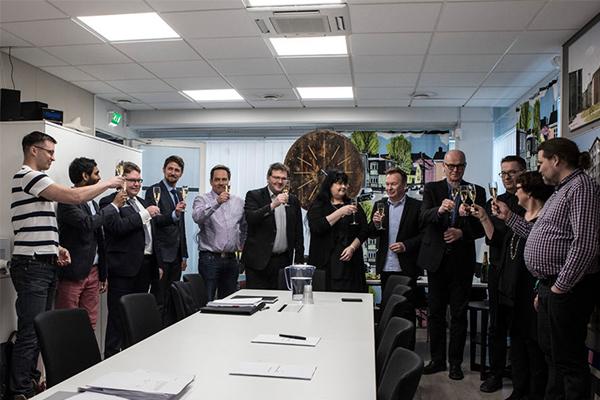 Development phase of Kinnari's school started – Alliance was chosen with 100 % of quality
Behind the planning of Järvenpää's Kinnari's School is the new phenomenon; based learning, where premises and the yard attract children to perceive and learn.
The pedagogical vision guiding the school's design and the corresponding space solutions will be developed throughout the design and construction period by user. The goal is the build Finland's best school in Järvenpää.
International learning mode examples were sought for project preparation and a comparison of different school solutions was made in project preparation. Acquisition of Kinnari was made purely based on quality and it is the first alliance to be performed along the new procurement law. School is designed to be flexible with open building and there's a reservation it to become comprehensive school.
28.3.2017 development stage's contract was signed with city of Järvenpää, NCC Suomi Oy, Mestaritoiminta Oy and Hannu Jaakkola Arkkitehdit Oy. All parties of the contract engaged to design the new Kinnari's school with alliance model.
In contract signing event there were representatives of users: mayor of Järvenpää, Erkki Kukkonen, service region's manager Marja Taurula and a director of basic education Arja Korhonen. Construction project's subscriber is Mestaritoiminta Oy and its CEO Veikko Simunaniemi signed the contract. Construction manager Jani Kervinen from Järvenpää also represented Mestaritoimta Oy. Constructor of the project is NCC Suomi Oy and the contract was signed by the head of the office construction unit Frej Weurlander. Weurlander took also part in Järvenpää's new social and health center JUST. Teemu Jaakkola, who is alliance project manager from Järvenpää, represented NCC Suomi Oy as well. Architect and engineer of the project is Hannu Jaakkola Arkkitehdit Oy and the head designer of the company signed the contract. Architect Kai Rajakaltio was also representing the designer. Other participants in event were lawyer Mika Pohjonen, who was supposed to supervise the project on public procurement laws perspective. Boost Brothers who works as a developer expert on the project has two representatives: chief operative officer Matti Sivunen and project manager Miro Ristimäki.
More information: Matti Sivunen 040 7525 710