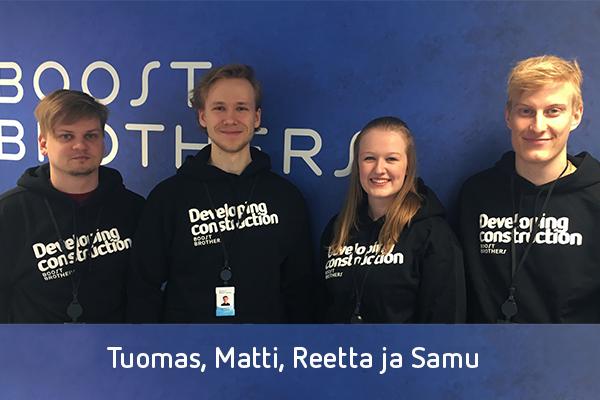 Appointments at Boost Brothers
Reetta Kalliovalkama, Matti Karjalainen, Tuomas Talasma and Samu Heikkilä have been appointed as Fast Track trainees in 3.4.2017
Reetta Kalliovalkama
Reetta studies construction engineering in Tampere University of Technology. Her major is structural design. Reetta is particularly interested in renovations.
Matti Karjalainen
Matti has experience in profitability and work planning. His special interests are statistical analysis and mathematical optimization. Matti studies finance in Aalto University School of Economics.
Tuomas Talasma
Tuomas is interested in project management and real estate development. He is also interested in involvement of the various parties involved in project at all stages. Tuomas studies in Tampere University of Technology and his mayor is construction management and economics.
Samu Heikkilä
Samu has job experience in constructing and supervising. Samu studies construction management and economics in Tampere University of Technology, but he also has computational studies though a minor subject. Samu is especially interested in combining economic knowledge and challenges of construction field.